HIGH TEMPERATURE CERAMICS VALVE
By using this valve, the flow rate of high temperature gas(1300°C,5atm) can be controlled. This is the first technology in the world!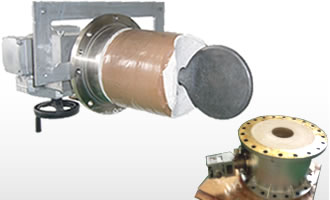 Features
Perfect gas tight!
Utility is only cooling water.
Cartridge type structure. So installation is very easy.
Delivery results
This valve has been shipped 385units to the steel making companies in the world.
1.Trend
2.Customer
Year
Quantity
Company
Works
Quantity
1986
19
JFE
Keihin
51
1989
27
JFE
Fukuyama
30
1990
4
JFE
Chiba
8
1994
10
Sumitomo
Kashima
44
1995
16
Sumitomo
Wakayama
31
1996
12
Sumitomo
Hasaki
3
1997
16
NSC
Oita
39
1998
21
NSC
Kimitsu
11
1999
7
NSC
Yahata
23
2000
10
Kobe
Kobe
12
2001
19
Kobe
Kakogawa
4
2002
24
POSCO
Pohang
16
2003
14
POSCO
KwangYang
19
2004
56
CSC
&nbsp&nbsp
15
2005
15
CST
&nbsp&nbsp
17
2006
17
BHP
New Castle
10
2007
3
BAO
&nbsp&nbsp
4
2008
11
Siderar
&nbsp&nbsp
2
2009
12
TATA
Ijmuiden
26
2011
23
KHI
&nbsp&nbsp
1
2013
8
SGJT
&nbsp&nbsp
16
2014
8
COURSE50
&nbsp&nbsp
3
2015
3
TOTAL
&nbsp&nbsp
385
2016
9
&nbsp
&nbsp
&nbsp
2017
1
&nbsp
&nbsp
&nbsp
2018
4
&nbsp
&nbsp
&nbsp
2019
4
&nbsp
&nbsp
&nbsp
2020
2
&nbsp
&nbsp
&nbsp
2021
4
&nbsp
&nbsp
&nbsp
2022
6
&nbsp
&nbsp
&nbsp
TOTAL
385
&nbsp
&nbsp
&nbsp