ANODE GAS RECYCLE BLOWER FOR SOFC
By using this blower, the generating efficiency of SOFC increase drastically!
This is the first technology in the world!
Features
This blower can blow high temperature fuel gas up to 950℃.
Blower efficiency is over 60%.
Perfect gas tight!
Very compact size because of high rotation speed.
Air cooling system for bearings. So utility is only electric power.
Representative model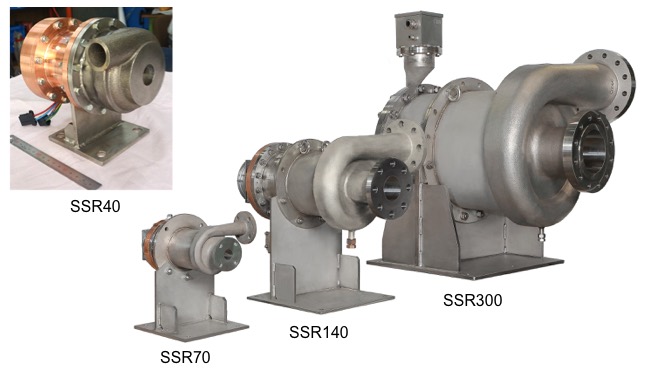 Delivery results
Type
OD of Impeller (mm)
SOFC capacity
q'ty
Country
IFP0701
70
1-10kW
20
Japan USA Canada
IFP2602
260
50kW
4
Japan
IFP1801
180
2-10kW
2
Japan
SSR40-Ns200
40
Now developing
SSR70-Ns200
70
3-8kW
5
Japan
SSR70-Ns300
70
1kW
1
Germany
SSR95-Ns200
95
20kW
1
Japan
SSR140-Ns300
140
50-250kW
11
Japan USA
SSR140-Ns200
140
50kW
2
Japan
SSR210-Ns200
210
1000kW
5
Japan
SSR300-Ns300
300
1000kW
2
USA
TOTAL
53